Ever had one of those days when the sinks are taking forever to drain? Or have you battled a strange smell stealthily invading your kitchen space? Or worse, have you faced a sudden shutdown or a code violation from health inspectors? When you're running a fast-paced commercial kitchen, these issues can be as welcome as a raccoon in a pantry.
Here's a pro tip: the notorious grease trap is often behind these culinary crimes. This often overlooked component of your kitchen plumbing is instrumental in keeping your kitchen up and running and staying in line with health and safety guidelines. Regular, professional servicing of this hidden hero helps avoid hiccups and any unpleasant surprises. And that's where we come in handy.
At Transou's, we're all about offering grease trap pumping services to tackle the very issues that can throw a wrench into your kitchen operations. We know that a well-maintained grease trap is the cornerstone of your business' success. When you choose us, we pledge to use our expertise to help your kitchen and sewage system run like a dream, ensuring a happier staff and a compliant, problem-free kitchen. So, put your grease trap worries to rest with Transou's, and let's cook up continued success for your commercial kitchen together.
Spotting Red Flags
Signs You Need Grease Trap Maintenance and Repair
Sinks Draining Slower Than Usual
Are slow-draining sinks causing dishwashing delays and messing up your service? Or worse, are backflows giving you septic nightmares? These are telltale signs that your grease trap is screaming for a pump-out. Ignoring them can lead to severe blockages in your plumbing system. It's time to pump that grease trap before these problems escalate.
Foul Odors Hijacking Your Kitchen
Ever been ambushed by a stinky smell upon entering the kitchen? If it's making your nose twitch, imagine what it's doing to everyone else around! Trapped grease can kick up a stink, which is a surefire sign that your grease trap needs a thorough pump-out. Don't wait until a customer's complaint brings this to your notice. Regular grease trap pumping helps keep your kitchen smelling fresh and inviting.
Greasy Dishware and Utensils
If your dishware and utensils are sporting a greasy film, or if your kitchen floor has become a slippery hazard, your grease trap is probably overdue for a pump-out. A well-functioning grease trap should prevent grease from slipping into your plumbing system and messing up your kitchen gear.
Must present the coupon when scheduling work, this coupon can not be combined with another coupon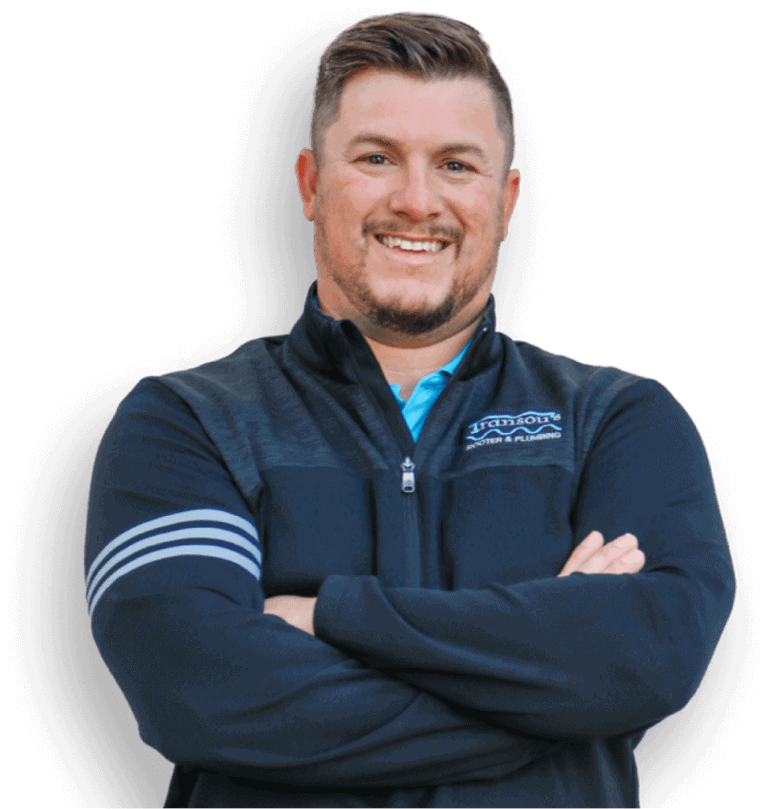 Why Go with Transou's Plumbing and Septic for Grease Trap Pumping?
If cleaning slippery floors and backflows has become a part of your kitchen routine, it's high time to schedule a grease trap pumping session with us.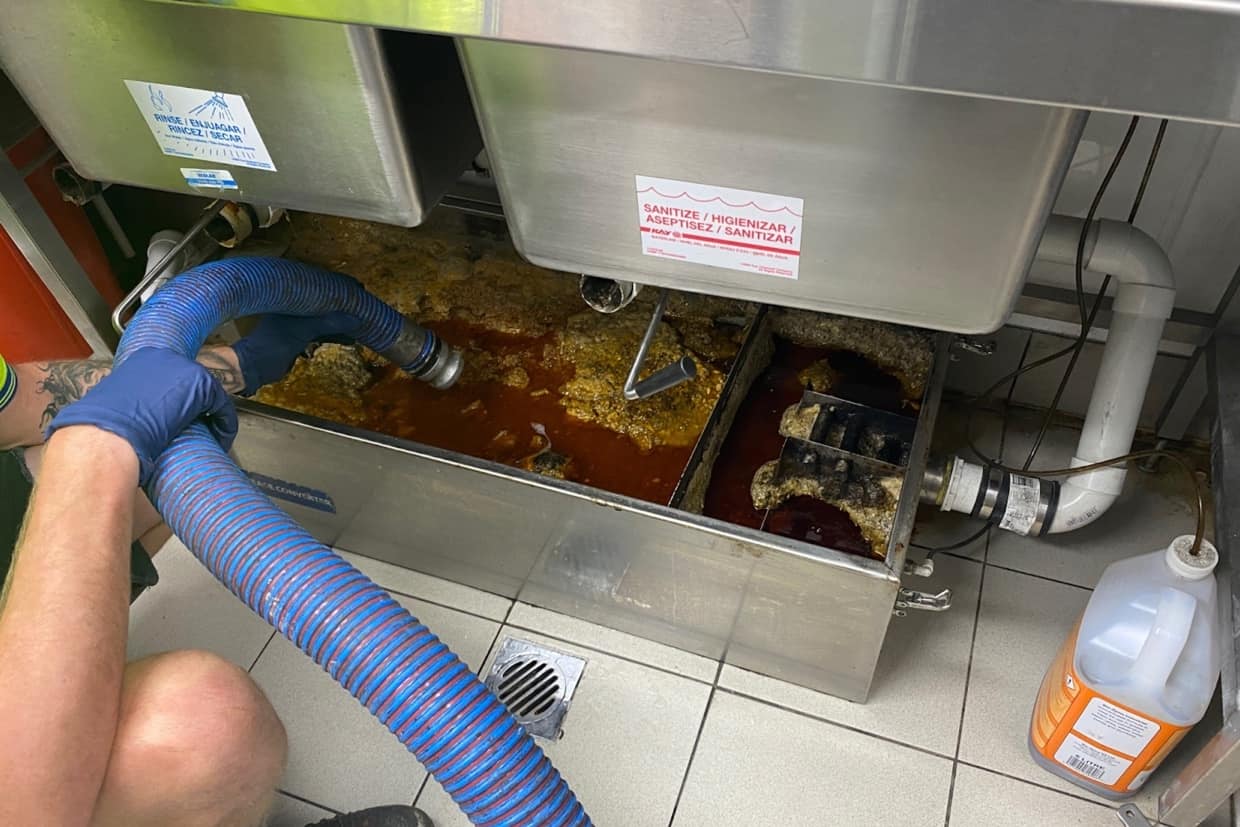 Dependable and Prompt Service
In the restaurant business, every minute counts. That's why, at Transou's, we offer reliable, timely grease trap pumping services that respect your time. We ensure minimal disruption to your operations and get the job done in a jiffy.
Compliance with Regulations
Falling foul of health and safety regulations is a nightmare no commercial kitchen wants to live in. At Transou's, we are well-versed in industry standards and regulations about connecting to city sewer lines. We make sure our grease trap maintenance and pumping services keep your kitchen 100% compliant.
Preventive Maintenance for Smooth Operations
Consistent grease trap pumping is your ticket to preventing clogs, bad smells, and plumbing issues. With Transou's, you can trust our grease trap services to keep your kitchen humming along smoothly, contributing to a clean and efficient environment for the delight of your staff and customers.
Banish Grease Trap Woes with Transou's Plumbing & Septic in Greensboro, NC
You deserve a kitchen humming along perfectly, devoid of grease buildup nightmares, allowing you to focus on whipping up those scrumptious dishes your customers love. Sounds like a dream, right? Well, that's precisely what we strive to make a reality at Transou's.
From routine pumping to grease trap cleaning, our team ensures your grease traps stay in prime condition, keeping those unwanted smells and potential blockages at bay. Let us take the grease trap headache off your plate, so you can focus on showcasing your culinary prowess.
In Greensboro, NC, Transou's Plumbing & Septic is the partner that businesses count on for their grease trap needs. Don't have a grease trap or in need of a new one? Contact us today at (336) 276-0388 and ask us about our grease trap installation, grease trap replacement, and other septic system services.
Got Plumbing Questions? We're Answering Most Common Questions Here!
Regular grease trap pumping is your commercial kitchen's best friend. It helps keep plumbing backups, bad smells, and pricey plumbing repairs at bay. It also ensures a clean, functioning grease trap that keeps health and safety regulators happy.
Several factors influence the grease trap pumping schedule - the size of your grease trap, the amount of grease your kitchen generates, and local regulations. However, a quarterly or bi-annual pumping routine works well for most commercial kitchens. Our grease trap gurus can suggest the perfect schedule for you.
Grease trap pumping is a job that requires technical skill and know-how. It needs special equipment and skills for a safe, effective job. Transou's Plumbing & Septic has the experience and expertise to pump and clean your grease trap thoroughly, ensuring it's all systems go and keeping you compliant.
The size of your grease trap and the amount of grease dictate the pumping time. Generally, a standard service takes about 1-2 hours. Our team will work efficiently to make sure your kitchen operations face minimal disruption.
Sure, regular pumping is essential, but here are some tips to keep your grease trap smiling: scrape plates and utensils before washing, avoid pouring oils and grease down the drain, and use sink strainers to catch solid food particles. Our team can provide more personalized guidance based on your specific needs.