Ever been slapped with a costly, unexpected septic repair? Or do you ever regret not having your septic tank checked sooner? At Transou's Plumbing & Septic, we believe no Greensboro resident should go through that ordeal. We've turned prevention into an art form. We understand the dread that comes with sudden septic problems and the costs they bring. But what if you could sidestep these issues?
Imagine this: a hassle-free life with a smoothly running septic system. Possible? Absolutely. Our team is ready to give your system a health check that could save you more than just dollars. We can help you dodge these dreaded septic surprises with our septic tank inspection services.
How Often Should You Do Septic Inspection and Septic Tank Pumping?
Figuring out the frequency of your septic inspection can be a bit like solving a puzzle, with various key pieces fitting together to form the full picture:
Tank Size
Let's start with the size of your septic tank. A larger tank can handle more waste and generally needs fewer inspections. Conversely, a smaller tank fills up quickly and might require more frequent checks.
Volume
The volume of water your household uses also plays a pivotal role. If you're running dishwashers and washing machines around the clock, or if you have a large family, your tank is going to fill up quickly.
Usage Habits
Lastly, your household habits can make a big difference. Do you dispose of food waste down the sink or flush items that are not safe? Habits like these can add strain to your septic system, attracting more frequent inspections.
A rule of thumb could be an annual inspection, but if your home is bustling with activity, you might be seeing us more often! Why? Because heavier water use demands more regular inspections. 
Must present the coupon when scheduling work, this coupon can not be combined with another coupon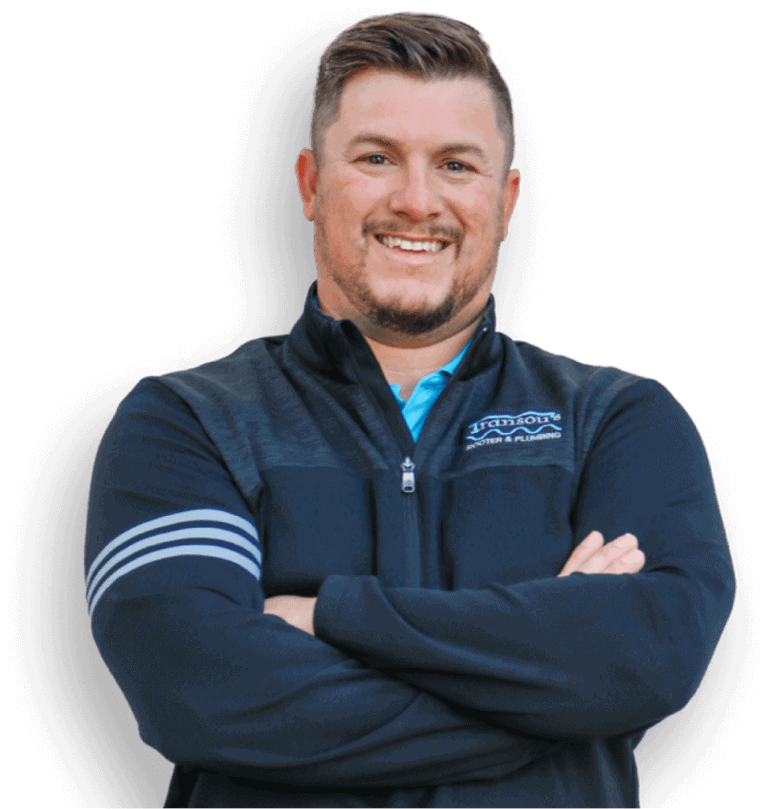 The Septic Inspection Process
When it's time for a septic inspection, one of our seasoned technicians at Transou's Plumbing & Septic will grace your doorstep, ready to tackle the task at hand. Here's the lowdown: we'll uncover your tanks and gauge the scum and sludge levels. Not to forget, we'll check out the baffles too.
Why, you might wonder? Well, these telltale signs clue us in on how much more time your septic tank has before it needs a good pump. We take a hard look at the scum and sludge levels to gauge your risk of a messy backup. If we find these levels too high, we'll recommend a thorough septic tank pump-out.
How often does this happen? You'll be happy to hear it's typically only every 3 to 5 years, depending on those key factors we chatted about earlier.
When it's pump-out time, our team gets to work, scooping out all scum and sludge and ensuring there are no blockages. We take the pumped waste and dispose of it in a responsible, eco-friendly way. Rest assured, your system-and your home-will be in good hands.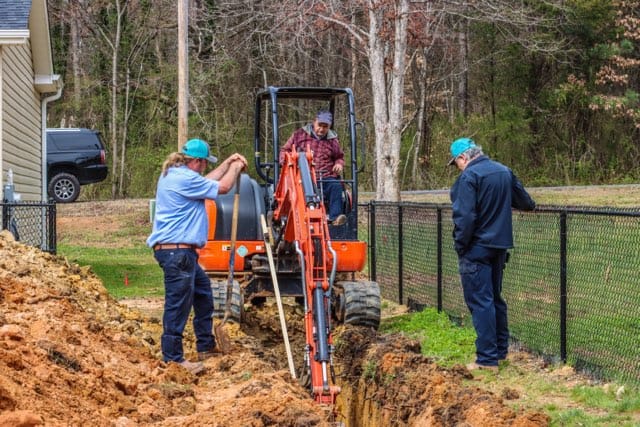 Our Septic Inspection Services and Septic Tank Pumping in Greensboro, NC
Residential Septic System Inspection
Your home's septic system is a lifeline, and at Transou's Plumbing & Septic, we get that. It keeps your daily routines running seamlessly. With our expert inspection services, we'll give your system a top-to-bottom lookover, offering insights on how to keep things humming along smoothly.
Commercial Septic System Inspection
Running a business can be stressful enough without worrying about your septic system. Pass that stress over to us! Our team will scrutinize your septic tank, drain fields, and leach fields, ensuring everything is in tip-top shape. If we spot any wastewater system woes, we'll suggest professional repair solutions.
Residential Septic Tank Pumping
Pumping out your septic tank clears away solid waste, prevents system overload, and helps keep your yard flood-free and smelling fresh. Regardless of the size of the task, our team stands ready to ensure your residential septic tank is pumped out thoroughly and responsibly.
Commercial Septic Tank Pumping
Own a restaurant or hotel? Commercial septic tank pumping is crucial to uphold sanitation and prevent potential damages. Neglected tanks could harm your building's foundation and risk bacterial contamination in your vicinity. That's why our commercial septic tank pumping service is here to ensure your property's septic system is in its prime condition, providing a safe and sanitary environment for all.
Prevention is the Best Cure with Transou's Quality Septic Service - Book an Inspection Today
When it comes to septic systems, the stakes are high. A well-maintained system keeps your home or business running smoothly, while a neglected one can result in disastrous consequences. But worry not! With Transou's Plumbing & Septic, you can be assured that your septic system is in expert hands. We won't stop until you're satisfied with our work.
Our skilled technicians will ensure your system's performance is top-notch, preventing unpleasant surprises and securing your property's sanitation. Whether it's your home sweet home or your thriving business, a regular septic inspection is not just a choice-it's a necessity. Wait no longer. Call us at (336) 276-0388 to book your septic inspection service.
Got Plumbing Questions? We're Answering Most Common Questions Here!
It's simple: to catch small issues before they turn into significant, costly problems. A routine inspection can save you from unexpected system failure, yard flooding, and unpleasant odors.
It depends on factors like the size of your septic tank, your household's water usage, and everyday habits. Typically, an annual inspection is a good rule of thumb. However, if your home has high water usage, more frequent checks might be needed.
Curious about what happens during a septic inspection? Here's the inside scoop: Our septic technicians will visit your property, lift the lid off your septic tank system, and take a good, hard look at the scum and sludge levels. They'll also cast their professional judgment over the septic baffles-the path your wastewater travels. A detailed check-up of these elements allows us to evaluate the current health of your septic system and suggest if it's time for a pump, a clean, or any other septic service it might need.
We like to recommend septic tank pumping every 3-5 years. But as discussed earlier, this will depend entirely on how much wastewater your house or building produces, how big your septic tank is, what kinds of water consumption habits your household has, etc. Watch out for signs like stubborn clogs or wet patches in your yard because these normally mean you need to have your septic system inspected.
Yes, we do! We offer septic tank services for both residential and commercial properties in Greensboro, NC. Whether you're a homeowner or a business owner, we're the guys to call for plumbing tasks of any size or scale. So do give us a call to book your appointment.